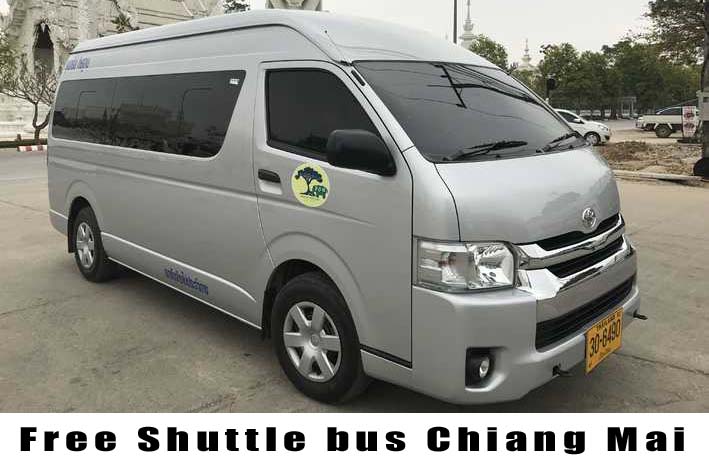 Free Shuttle bus Chiang Mai
October 26, 2019
Chiang Mai Overview:
Chiang Mai is a northern city of Thailand with a high tourism rate. It was founded in 1296 and named Chiang Mai which means "New City" in the Thai language. It is the former capital of the Kingdom of Lanna. The city's central location on the Ping River (which is a major tributary of the Chao Phraya River) and its proximity to major trading routes contributed to its historic importance. Chiang Mai is one of the haven for tourists. There is cheap accommodation, amazing Thai food, relatively cheap western food and the best thing is the incredible Wi-Fi speeds, also a wide range of cafes to work in. Chiang Mai has great cultural significance. It is Thailand's second-largest city after Bangkok.
If you are a tourist on a low budget you always try to find a way to do everything within your budgets and that's the time when you peek into the hidden economical secrets of the city which are budget efficient. The free shuttle bus is one of those secrets to save your budget in transportation.
Free Shuttle bus service Chiang Mai:
Central Airport and Festival have free shuttles that run throughout the day.
Central Festival Mall:
Central Festival Mall is the Northern Thailand'snewest, largest and trendiest shopping mall. It has a marvelous and eye-catching architecture inspired by Thai Cultural heritage with eco- friendly technology.
Location and transportation:
It is located on the Superhighway junction which is one kilometer away from the bus terminal, three kilometers away from the train station and eight kilometers from the airport.
It covers the area of 250,000-sq-metre and the mall comprises over 250 brand-named fashion stores as well as over 60 restaurants and 7 specialized anchor stores.
That's not it, it also has Central Department Store, Central Food Hall, Power Buy, Super Sports, Office Mate, a Major Cineplex with IMAX 3D and 4DX. And for fun activities ice-skating rink, Fun Park and a full-service fitness club is available there.
Open Time:
The opening timing of the mall is;
Monday to Thursday: 11:00 – 21:00
Friday Timing; 11:00 – 22:00
Saturday to Sunday: 10:00 – 22:00
The best thing about Central Festival Mall is that it offers free shuttle service to surrounding hotels in the Chiang Mai area.
Routes:
Central Airport and Festival have free shuttles that run throughout the day. There are free shuttle services for 4 routes which include:
1- The Night Market Road.
2- Nimmanhaemin Road
3- Old City Road
4- Airport.
The shuttle bus drops you to Central Festival's Mall front entrance and go back on the same routes to those same hotels approximately after hours. To avail free shuttle bus it's not important that you stay at the hotel from where you avail it because the shuttle bus cost does not involve in the hotel. It is paid from the mall. So you can easily avail of this service.
Timings:
The Shuttle bus first pick-ups begin around 11 a.m., on its way to the bus stop at several hotels for several minutes before heading to the mall. It takes about 40 minutes of travel from the first stop to your destination. You can get to your destination in 1 /3 of the time, if you use any other transport, for example, a tuk-tuk or songthaew, but it will cost you 50 baht or maybe more. So if you want to save your money Shuttle bus is not a bad option to avail.
Return trip:
The first return trip of the bus begins at 1 p.m. After every 2 hours, a bus leaves back from the mall until 7 p.m. All shuttles leave at the same time to drop off and pick up.
The amazing thing about these free shuttle buses is that if you are currently at one spot in the city from where the shuttle passes and you are going to the Mall. After shopping now you want to go to another place, you can easily avail other shuttle route bus and can explore the city and since there are four routes, you can easily make your way around the city to different sites of your choice and if you want to go to a place which comes in middle of the route of shuttle bus, the driver can stop anywhere along the regular route. Wherever you want to get off, just press the buzzer button in the center of the roof.
Chiang Mai Airport:
Chiang Mai airport is one of the most crowded and busiest in the world, in Thailand, it is the 4th busiest airport. It is owned by Royal Thai Air Force and it is a mix of Public and Military use.  It's a gateway to Northern Thailand and is becoming a popular tourist destination. As an estimate over 2 million visitors travel through the airport each year. The airport is on around 316 meters (1,037 ft.) above mean sea level. It has one runway measuring 3,100 by 45 meters surface. There are two terminals, one for domestic passengers and the other for international flights. Both the terminals are in the same building.
Airport shuttle bus to Hotel:
There are also shuttle bus services from the airport to the hotel. It takes 5 minutes around each hotel. The hotel includes; Thapae, Imperial Mae Ping, Central Duang Tawan, D2 Dusit, Suriwong, Royal Princess, The Empress, and Holiday Inn. The shuttle bus departures from airport on 10:30am, 11:30am, 1:00pm, 2:00pm, 3:00pm, 4:00pm, 5:00pm, 6:00pm till the last shuttle bus which departure at 7:00pm.
Cost Saving:
The free shuttle bus service is a very good service. If you want to travel but your budget is low you can easily avail and enjoy the free shuttle bus rides and explore the city as well but unfortunately, the shuttle bus service is underutilized because the hotel doesn't seem to advertise it, though time tables are available from some hotel.
The free shuttle buses are amazing and economical, everyone can easily avail it to travel to their destination. The drivers of the buses are also very cooperative and friendly. I think everyone should avail of the free shuttle bus at least once in life just to have a different experience, even if they can afford other traveling options.