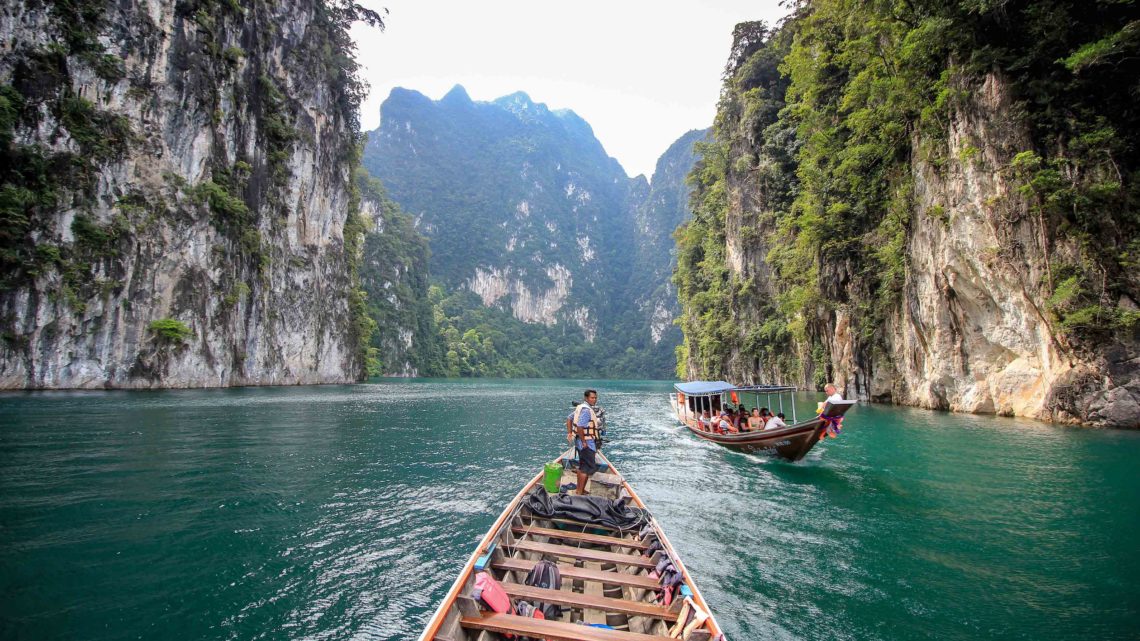 How to travel to Khao Sok National Park
November 21, 2019
If you're planning an epic trip through Thailand and are looking for something to do in between the coasts, Khao Sok National Park is the perfect choice. In between diving in Koh Tao and rock climbing in Krabi, take a few days to explore one of Thailand's best national parks
This is one of the top places to visit in Thailand, and for good reason. With an abundance of hiking trails, tons of wildlife, and floating bungalows, this is a fantastic travel destination. Swap the hordes of tourists for elephants, gibbons, and wild boars. Stop for a few days at Khao Sok National Park and enjoy a trip full of adventures in nature.
There are endless things to do in Thailand, with getting out in nature and spotting wildlife topping the list.
An Introduction to Khao Sok National Park:-
Khao Sok National Park is situated in surat thani province in southern Thailand. This massive national park is 739 square kilometers, including the stunning Cheow Lan Lake. Dating back 160 million years, this is one of the oldest rainforests in the world.
In addition to the lake, Khao Sok National Park is famed for its majestic karst mountain peaks. These were carved over the years by heavy monsoon rains coming from both coasts. Khao Sok National Park is also home to plenty of waterfalls and caves, which you can access via the park's extensive trail system.
Khao Sok was established back in 1980 as a national park. The park is actually in two different areas – Khlong Sok town and Cheow Lan Lake. It's about 65 km between the two, so you'll need to factor that in when planning your trip.
Things to Do in Khao Sok National Park:-
With a few days in Khao Sok National Park, you can enjoy hiking, canoeing, wildlife spotting, rock climbing, tubing, swimming in waterfalls, exploring caves, and so much more. With a few days here, you can do a little bit of everything!
Independent travellers will be happy to hear that you can easily plan a DIY trip to Khao Sok. There are quite a few well-marked trails from the visitor's centre that are easy enough to follow on your own.
On the other hand, it's not a bad idea to enlist the services of a guide. Not only will you be supporting the local community, but they'll be able to point out interesting flora and fauna that you might miss if you go hiking by yourself.
Plus, you're actually not supposed to go more than 3 km into the park without the assistance of a guide. There are plenty of local guides that are ready and willing to take you into the jungle. Ask your accommodation for recommendations, or visit the main street in Khao Sok to find numerous guides selling tours. Trips range from 1/2 day up to 10 days of trekking and camping.
Guide To Khao Sok National Park Thailand:-
For a very unique experience, you can sign up for a night safari. Your guide will take you on a 2-hour journey into the jungle, which really comes alive at night.
With waterfalls, a river, and the lake, there are of course plenty of water-based activities as well. Some of the most popular things to do in Khao Sok National Park include canoeing or bamboo rafting down the river. If you'd prefer a more laid-back afternoon, you could just go tubing.
Khao Sok National Park is an incredibly bio-diverse place full of unique flora and fauna. See if you can find the Rafflesia flower, which is one of the largest (and most smelly) in the world. The park is also home to around 50 mammal species, over 300 species of birds, and countless reptiles, amphibians, and insects.
While exploring Khao Sok National Park, you might see Malaysian sun bears, swinging gibbons, barking deer, white-crowned hornbills, and monitor lizards, for starters. Channel your inner David Attenborough and shoot your own homemade "Planet Earth" videos here.
There's plenty to do around the town to keep you busy for your whole trip, but you'll definitely want to carve out at least a day for visiting the lake. It's easy to get signed up on a day trip there, or you can choose to stay a night or two in one of the amazing floating bungalows – a highly recommended experience. You'll be surrounded by forest and mountains while enjoying your floating bungalow, which sits atop 40 meters of clear, fresh water.
You can join tours which include a night's stay in a floating bungalow, hiking, 3 meals, caving, and wildlife spotting. Again, ask around in town for prices and recommended companies, or check reviews on websites such as TripAdvisor. You can also check out the Khao Sok Lake website for more information.
In addition to admiring the stunning karst mountains, you can enjoy some fishing, rock climbing, or even zip-lining through the trees. After an adrenaline-filled day of adventures, retreat to your bungalow on the lake and enjoy the beautiful views.

How to Get to Khao Sok National Park:-
If you're travelling by air or riding the rails, the closest place to Khao Sok is Surat Thani. You can get flights or trains here from several places in Thailand. From Surat Thani, it's about a 2-hour bus ride to the park. You can also catch a minibus from Krabi, Phuket or Khao Lak.
Those who are stopping at Khao Sok in between the coasts will likely take a combination of ferries and buses. Just about every travel agent in popular areas like Koh Samui or Phuket can help arrange your transportation to and from the park.